Dr. R.A. Mashelkar (Pune, India) is awarded the 2009 KEN Practitioner of the Year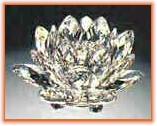 Dr. R.A. Mashelkar was announced the ENTOVATION KEN Practitioner of the Year 2009 at the Inaugural Ceremony festivities for KAUST (King Abdulla's University for Science and Technology) in Jeddah, Saudi Arabia.
---
For decades of knowledge leadership the opportunity to shape collaborative advantage.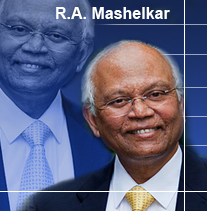 Dr. R.A. Mashelkar, CSIR Bhatnagar Fellow, is presently also the President of Global Research Alliance, a network of publicly funded R&D institutes from Asia-Pacific, Europe and USA with over 60,000 scientists.
Dr. Mashelkar served as the Director General of Council of Scientific and Industrial Research (CSIR), with thirty-eight laboratories and about 20,000 employees for over eleven years. He was also the President of Indian National Science Academy and President of Institution of Chemical Engineers (UK).
After retirement from the Navy, he was selected the first Chairman and Chief Executive Officer of the Microelectronics and Computer Technology Corporation (MCC) in Austin, Texas and served for 4 years. As its first leader, he brought several qualities: a national identity, insider know-how and know-who regarding the Washington scene and a reputation for integrity and intelligence. Inman can be credited with architecting the facility selection in Austin, the recruitment of a significant number of large-scale companies who were in many cases, arch competitors.
Deeply connected with the innovation movement in India, Dr. Mashelkar is currently the Chairman of National Innovation Foundation, Reliance Innovation Council, Thermax Innovation Council and Marico Innovation Foundation.
Dr. Mashelkar is on the Board of Directors of several reputed companies such as Reliance Industries Ltd., Tata Motors Ltd., Hindustan Unilever Ltd., GeneMedix Life Sciences Ltd., Indigene Pharmaceutifcals Ltd., ICICI Knowledge Park, Thermax Ltd., Piramal Life Sciences Ltd., and KPIT Cummins Infosystems Ltd. He is a member of the Scientific Advisory Boards of the Microsoft (USA), Microsoft (India), VTT (Finland), etc., besides being Strategic Advisor to Alcoa (USA).
Dr. Mashelkar is only the third Indian engineer to have been elected (1998) as Fellow of Royal Society (FRS), London in the twentieth century. He was elected Foreign Associate of National Academy of Science (USA) in 2005, only the 8th Indian since 1863 to be so elected. He is the first Indian to have been elected as the Foreign Fellow of Australian Technological Science and Engineering Academy (2008). He was elected Foreign Fellow of US National Academy of Engineering (2003), Fellow of Royal Academy of Engineering, U.K. (1996), and Fellow of World Academy of Art & Science, USA (2000).
Twenty-seven universities have honoured him with honorary doctorates, which include Universities of London, Salford, Pretoria, Wisconsin and Delhi.
In August 1997, Business India named Dr. Mashelkar as being among the 50 path-breakers in the post- Independent India. In 1998, Dr. Mashelkar won the JRD Tata Corporate Leadership Award, the first scientist to win it. In June, 1999, Business India did a cover story on Dr. Mashelkar as "CEO OF CSIR Inc.", a dream that he himself had articulated, when he took over as DG, CSIR in July 1995. On 16 November 2005, he received the Business Week (USA) award of 'Stars of Asia' at the hands of George Bush (Sr.), the former President of USA. He was the first Asian Scientist to receive it.

The President of India honored Dr. Mashelkar with Padmashri (1991) and with Padmabhushan (2000), which are two of the highest civilian honors in recognition of his contribution to nation building.

When Dr. Mashelkar took over as the Director General of CSIR, he enunciated "CSIR 2001: Vision & Strategy". This was a bold attempt to draw out a corporate like R&D and business plan for a publicly funded R&D institution. This initiative has transformed CSIR into a user focused, performance driven and accountable organization. This process of transformation has been recently heralded as one of the ten most significant achievements of Indian Science and Technology in the twentieth century.

Dr. Mashelkar has been propagating a culture of innovation and balanced intellectual property rights regime for over a decade. It was through his sustained and visionary campaign that growing awareness of Intellectual Property Rights (IPR) has dawned on Indian academics, researches and corporates. He spearheaded the successful challenge to the US patent on the use of turmeric for wound healing and also the patent on Basmati rice. These landmark cases have set up new paradigms in the protection of India's traditional knowledge base, besides leading to the setting up of India's first Traditional Knowledge Digital Library. In turn, at an international level, this has led to the initiation of the change of the International Patent Classification System to give traditional knowledge its rightful place. As Chairman of the Standing Committee on Information Technology of World Intellectual Property Organization (WIPO), as a member of the International Intellectual Property Rights Commission of UK Government and as Vice Chairman on Commission in Intellectual Property Rights, Innovation and Public Health (CIPIH) set up by World Health Organization (WHO), he brought new perspectives on the issue of IPR and the developing world concerns.

In the post-liberalized India, Dr. Mashelkar has played a critical role in shaping India's S&T policies. He was a member of the Scientific Advisory Council to the Prime Minister and also of the Scientific Advisory Committee to the Cabinet set up by successive governments. He has chaired twelve high powered committees set up to look into diverse issues of higher education, national auto fuel policy, overhauling the Indian drug regulatory system, dealing with the menace of spurious drugs, reforming Indian agriculture research system, etc. He has been a much sought after consultant for restructuring the publicly funded R&D institutions around the world; his contributions in South Africa, Indonesia and Croatia have been particularly notable.

Dr. Mashelkar has won over 50 awards and medals, which include S.S. Bhatnagar Prize (1982), Pandit Jawaharlal Nehru Technology Award (1991), G.D. Birla Scientific Research Award (1993), Material Scientist of Year Award (2000), IMC Juran Quality Medal (2002), HRD Excellence Award (2002), Lal Bahadur Shastri National Award for Excellence in Public Administration and Management Sciences (2002), World Federation of Engineering Organizations (WFEO) Medal of Engineering Excellence by WFEO, Paris (2003), Lifetime Achievement Award by Indian Science Congress (2004), the Science medal by the Academy of Science for the Developing World (2005), Ashutosh Mookherjee Memorial Award by Indian Science Congress (2005), etc.