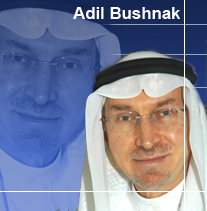 Name: Dr. Adil Bushnak
Affiliation:Chairman
Bushnak Group
Country: Jeddah, SAUDI ARABIA
URL: www.bushnak.com
"First major challenge was starting Al-Kawther Water Industries in late 1970's - the first Arab company to design, build and operate seawater desalination plants using reverse osmosis technology, including opening San Diego facilities where we sent our engineers to learn."

"Co-establishing Bosnia Bank International in Sarajevo after the war in late 1990's with partners from Jeddah, Dubai and Abu Dhabi; Co-founding Dar Al-Fikr Schools as a model private school for both sexes and all levels with both English and Arabic programs with its own hybrid curriculum; and co-establishing the first Saudi private girls college, Dar Al-Hikma, and starting when Saudi law would not allow such a college."

Among other boards and councils, serves as a member of the Advisory Board of the Supreme Economic Council which is chaired by King Abdullah. He is now in the process of establishing Arab Desalination Network in partnership with Arab Water Council and Arab Science & Technology Foundation.

He is also one of the founders of Al-Aghar Group which is the first Saudi think tank. Al-Aghar is instrumental in helping Saudi Arabia move toward a knowledge based economy. King Abdullah University for Science & Technology, KAUST, which was inaugurated in Sept 2009, is a good example of this effort which realizes the dream of the King, the founder of KAUST.