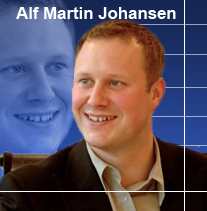 Name: Alf Martin Johansen
Chairman & Founder
Affiliation: Induct Software
Oslo, NORWAY

URL: http://www.inductsoftware.com

Country: Oslo, NORWAY.

"As a 'value chaser', I am constantly scanning the environment for ways to capture more value out of existing resources. My dream is to radically change the value capture from human capital - a key resource in today's organizations."
"To optimize human talent and maximize achievement and potential, 'Innovation Communities' need to be able to share knowledge both internally and externally in a seamless fashion."

"We have the concept behind an innovation technology platform to facilitate a true knowledge flow across hierarchy, companies, boarders, and industries – now ready to connect the world through a Knowledge Innovation Zone."
"The challenge as an entrepreneur is working in organizations without any room for thoughts 'outside the box'. But - if you have got an idea...talk with, listen to, and ask questions to people you meet on your way that could ensure you success!"