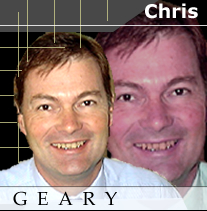 Name: Chris Geary
Affiliation: Principal
Integrated Visions International
Country: UK/Saudi Arabia
"We need to trust people to influence the direction of the company. In our (collaborative) group 'Open Innovation', we think of a team linking arms in a circle but facing towards each other versus the same team linking arms and facing outwards.

"Development of an employee portal across the corporation which allowed employees to access, interact, collaborate, based on what they wanted to achieve rather than an incomprehensible directory structure."

"Think Biological to create 'open source knowledge'. See the big picture and the inter-relationships between the interests of different groups whether companies in a supply network or public/private entities."

"We can exploit the capabilities and competences within a Knowledge Society in increasingly efficient and effective ways to benefit every sector of society on a global scale. There is no perfect market for Knowledge; but removing the barriers can unlock the benefits. Create the right conditions and let it grow."