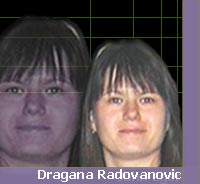 Name: Dragana Radovanovic
Affiliation: School of Economics and Management, Lund University
URL: www.entovation.com/whatsnew/KIZ Award Student 2005.ppt

Country: Sweden

"My greatest challenge was The Balkan War - a war really brings the best and the worst in people. When we lose everything, our knowledge is the only and most valuable thing that is left."

"Each person has some special knowledge or skill from which we can learn. Networking is one of the fastest and the most reliable ways of assembling information for the intelligence process."

"Dubrovnik was one of the most intelligent cities in the history. We should look back into its heritage - in terns of a changing world, the notion of time and globalization - and try to learn from it."

"An intelligent city should have its projection into the virtual world in order to stay connected with its citizens and to integrate the scattered arenas if the city with a universal interface. The mapping of intellectual capital (IC) helps a city leadership to make better resource allocation decisions."