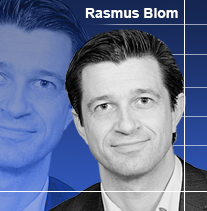 Name: Rasmus Blom MSc
Affiliation: Director, Grundfos Holding

Country:Charlottenlund, DENMARK

URL: www.grundfos.com
"Coming from the fields of Information Systems and Business Transformation I have seen and lived how knowledge can move mountains provided it is allowed to flow freely."

"We are all face with the greatest challenge in human history, creating a sustainable coexistence between people and the rest of our planet. My personal experience in facing that challenge is to find a way for enterprises to be part of the solution and not the problem. That involves finding your true purpose and using technology to unleash human creativity in a knowledge-based economy."

"Digitization of microorganism from the most remote areas we have on the planet, the deep Arctic and Antarctic seas, with the purpose to discover new and more sustainable solutions for our industry. WE have been able to develop a unique collaborative initiative between Danish Navy, Government, Universities and Industry."

"Inspired by nature, I believe the total digitization, implementation of Internet of Things will bring us to a higher level of understanding and hopefully create a new planetary level of wisdom... enabling the unable"