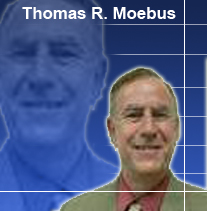 Name:Thomas R. Moebus
Director of Business and Investor Development

Affiliation:
Research Foundation for the
State University of New York [SUNY]
Albany, New York USA

Country: New York City, New York, USA

URL: https://portal.rfsuny.org/
"I've had wonderful challenges in three exciting and different cultures and knowledge environments - each with their own strengths, obstacles, and organizational dynamics.
Directing the Industrial Liaison Program and Corporate Relations, I worked with faculty in the transformation of MIT's approach to industry coordinating with so many intellectual leaders, and leading a staff organization to keep pace with this dynamic faculty.
In Orange County, I founded a new innovation support organization called OCTANe, - creating a community wide ecosystem for innovation, knowledge and business support...a challenge undertaken on a volunteer basis, without institutional support.
In New York City, the challenge has been to create programs, such as JumpStart NYC and FastTrac, to swiftly to respond to the financial meltdown, by offering career transition programs to keep NYC's young talent engaged – in this case, within the NY entrepreneurial economy.
"What if university-industry relationships could be truly transformative? This simple, profound question always guided my thinking."
"At Levin Institute, we are conducting a research and public engagement process we call 'New York in the World' – to determine how globalization has impacted New York; and more importantly, what can be done to respond. It's clear that the global economy and the knowledge economy are two slightly different descriptions of the same phenomenon – and it is one that requires a competitive response on the part of businesses and individuals. My intent is to focus our efforts on small businesses and mid-career learners – and of course the potential of innovation. Together they will lead the economic recovery."
"I have seen what can be done by harnessing networks and partnerships; but they cannot be hastily assembled. It takes a lot of work to get the right parties in the room, to understand 'what's in it for them', and to bring about a solution that can be seen as win-win-win-win."