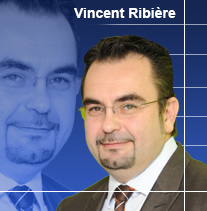 Name: Vincent Ribière, Ph.D., D.Sc.
Affiliation: Managing Director and Co-Founder
Institute for Knowledge and Innovation Southeast Asia (IKI-SEA)
Associate Professor and Program Director
Knowledge and Innovation Management Ph.D. Program (KIM) - Bangkok University

Country:Bangkok, THAILAND

URL: http://ikisea.bu.ac.th/
http://iklub.org/
"Living in different parts of the world - Europe, USA, Middle East (Bahrain) and now Thailand - raises challenges and adaptation capabilities over the past 15 years. I enjoy change, diversity and meeting new cultures and new people…sharing passion with other academics and practitioners in this cross-disciplinary field."

"Best accomplishment to-date is the creation of the Institute for Knowledge and Innovation Southeast Asia (IKI-SEA) at Bangkok University - a new institute that closely collaborates with Thai and SE Asian companies. First years were difficult; but now we have grown to a team of 10 people and even launched an International PhD program in the field of Knowledge and Innovation Management [KIM]."

"Vision of an economy where knowledge and collaboration fuel innovation across borders and where the wisdom of the crowd is able to tackle the most difficult challenges that our economies, societies and environment are facing and will face in the future."

"Make yourself unique, stay humble, stay open and don't forget to laugh a lot. And in the words of Mahatma Gandhi: 'Live as if you were to die tomorrow; learn as if you were to live forever."