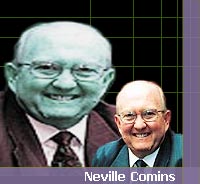 Name: Dr. Neville Raymond Comins
Title: National Innovation Advisor
Affiliation: COFISA (Cooperation Framework on Innovation Systems between Finland and South Africa)

Country: Pretoria, South Africa.
Website: http://www.cofisa.org.za/
"Our philosophy is to enhance the exploitation of innovation through location, design and infrastructure management to stimulate dynamic social interaction for the cross-fertilization of ideas and the flow of knowledge and technology."
Being a finalist in such a prestigious award [International Intelligent Community Award] positions us to rightfully acknowledge The Innovation Hub's role in supporting Gauteng as a smart province. This has been a significant focus of the goals of our project and is a tribute to the vision shown by the Gauteng Provincial Government in its Blue IQ initiative.
Elected to the IASP Board of Directors - "This gives Africa the opportunity to enhance its contribution in the global community of Science Parks. There is growing interest in Science Parks in many parts of our continent, so having a representative on the International Board of Directors augurs well for regional economic development."
"More than merely creating a cluster of new economy businesses where high-tech entrepreneurs share state of the art facilities and a smart address, a science park also has as a main objective the advancement of innovative and competitive capacity…There is considerable international evidence that bears testimony to the fact that science parks successfully stimulate the development and growth of high-technology businesses, related research and development, and commercialization."