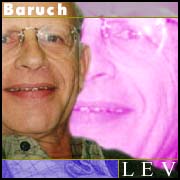 Name: Baruch Lev
Title: Professor
Affiliation: Stern School of Business
Country: USA
"Producer and Moderator of 'Money Matters' - a biweekly television program in Israel on financial and economic issues."

"Member, R&D task force, the Brookings Institution, 1999."

"Elected by 'Accounting Today' (September 27, 1999) to the Top 100 Most Influential People in the profession -- those who 'are changing the way in which the profession does business.'"

"For the first time, we validate the usefulness of the Scoreboard's measures by establishing them as superior measures of value creation."