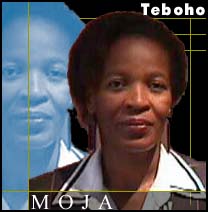 Name: Teboho Moja
Title: Professor of Higher Education
Affiliation: New York University
Country: USA
"…higher education institutions do not have the monopoly on knowledge production."

"Raising awareness about the need to change the education system – at the policy level - to be more responsive to new demands and needs of the information age."

"Knowledge can be shared without depriving oneself…improved upon as you bring more players into play."

"A knowledge economy where all people can participate fairly from all parts of the world."