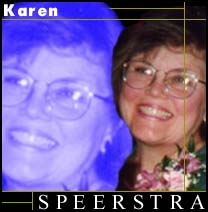 Name: Karen Speerstra
Title: Publishing Director
Affiliation: Butterworth-Heinemann
Country: USA
"Launch of knowledge business books, many of which have been truly transforming lives--business and personal."

"The Tree of Knowledge and the Tree of Life had grown together into one tree... Our inner selves must keep pace with our technological advances."

"Live in authentic partnership... no turfs to be viciously guarded... no longer be "us" versus "them."

"Learning to trust a process rather than seeing "immediate" results."