Dear E100:
Ever been to a rumble? It is not a workshop…not a conference…certainly not a convention. Not even 'Summit' is an adequate term. It is a happening – when the best in the world interact for mutual advantage. It could be called an Olympics; but many would note the competition between countries. In the end, it is what they do TOGETHER to advance the vision of what might be possible. It IS an Olympics where the best and brightest are brought together to create a fusion to catapult forward the innovation capability of the world.
Held under the theme, "The New, Smarter Innovation Economy", and under the support of OECD, Inter-American Development Bank and many multinationals, the Summit will share the world's most meaningful ideas, designs, enterprises, and innovations transforming the future of technology, communication, health, education, lifestyle, energy, and cities. Home to one of the world's top innovation ecosystems, Boston will welcome the World Summit, thereby staging the world's most remarkable living lab of dreamers, doers, and drivers from 50 nations.
You were selected as an E100 to be featured on the Global Knowledge Leadership Map for 3 reasons: competence, commitment to demonstrated collaborative values and standards of excellence. Collectively, you represent an Innovation Olympics Team; so please join us!
1he WHAT?
We've all seen the explosion of innovation conferences. Many focus on technological advances; others focus on the transformation of cities. Others are dedicated specifically to social networking, mobile computing, the front- (or back-) end of innovation and more. Few use DESIGN as the heart of innovating our future.
Prologue:
Frontier of the Smarter Innovation Economy: 3 days of innovation studios, theaters, boardrooms and speed-dating to engage with global entrepreneurs, designers, and executives to strike new partnerships that will alter the way you learn and live... create and innovate... invest and lead. An agenda over two years in the making with unique formats – including the use of art, music and culture – to explore our future. For more details
Cast:
Mavericks. Geniuses, Icons. YOU: 80+ presenters have consistently delivered on their commitments to advance relevant ideas, create meaningful designs, or innovate solutions to transform the future of business, society and environment. Where have you ever seen such a diverse density of talent on the same stage – not to mention the leadership talent in the audience…for ALL will be players on this WSIE Innovation Stage? For more details…
Confirmed line-up of remarkable presenters includes: the Founder & Head of The Langer Lab at MIT; Chief Economist of Microsoft; Chief Design Officer of Philips Lighting; CEO of Jana; CEO of Brightcove; Prime Minister of Slovenia; Chief Strategist of China Renewable Energy of the Ministry of Science and Technology and National Development and Reform Commission; President of Babson College; CFO of the United States Environmental Protection Agency; Founder & CTO of A123 Systems; CEO of Cool Planet Energy System; Chairman of Flagship Ventures; Co-Founder & CTO of Yammer; Founder & CEO of DealDash; Director General of Symbio Swiss; Co-Director of Boston University Center of BioDynamics; General Manager of Inter-American Investment Corporation; CEO of Crimson Hexagon; Founder and Principal of Artefact; CEO of RGB Networks; CEO of Euro RSCG Worldwide; CEO of Sambatech; CEO of TraceLink; CEO of Allon Therapeutics; CEO of Massive Health; Chief Innovation of Deloitte; Managing Director of Dassault Systems; Chairman of Ecosystems; and Director of Sustainability & Merchandising Innovation of Wal-Mart.
Story:
Improbable Visions; Incredible Fusions: WSIE carries a story of epic proportions. A story of growth, interconnections, and transformations. Sparking actions that illuminate the path to the innovation economy. Revealing something about our health and happiness, lifestyle and leadership, education and endurance, technology and fate, media and liberty, energy and brilliance, and cities and competitiveness. Some examples include:

Intelligent Energy; The Water Droplet; Innovation Diplomacy; Reinventing the University; Gene Therapy; Big Data/Bigger Decisions; Eye on Finland, Russia and Brazil; Promise of Social Innovation; Smarter Security; Innovation Titans; The Future we will Design and MORE.

For more details…
1he WHY?
You have already received some of the background how the case was made for Boston. Check out the E100 Alert: Boston Innovation Landscape to get a sense of the secret sauce that makes Massachusetts the most innovative in the world. Whatever you do, be sure to watch the Innovation Tour Video created by the Italian executives. When you plan your visit, if there are specific people/organizations you want to meet, let us know. No promises, but we would give it the ENTOVATION go!
1he WHEN?
For those E100 who arrive early for the Summit, we will meet the evening of the 24th and continue conversations throughout the 25th. We have plans for an event the evening of the 25th and then WISE 2012 will begin on the 26th-28th. Hopefully, some will be able to stay through the weekend to enjoy some of the tourist treasures of our City.
1he WHERE?
The Seaport Hotel and Trade Center have been selected as the WSIE venue. There are ONLY 100 rooms being made available at the reduced rate; so making your reservations NOW is essential.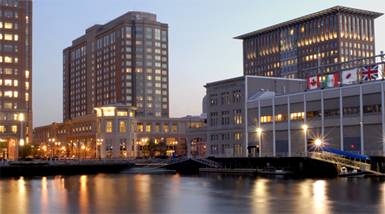 This is the peak season for Boston with visitors coming to experience the foliage in its full glory. The upside is that you see Boston at its best; the downside is that accommodation prices are set accordingly. A word to the wise…
If you need any

VISA

assistance, you can find information on-line:
http://travel.state.gov/visa/temp/temp_1305.html
1he WH0?


So far, we have 20+ E100 from 15 countries…and more are working on schedules:
Canada, China, Colombia, Denmark, Finland, France, Indonesia, Israel, Italy, Kuwait, Malaysia, Ukraine, United Kingdom, United States and Venezuela
There is still room for YOU! Please check the

WSIE Website

that is updated daily. Be sure to pick up your E100 Exclusive Invitation where the entire registration fee has been waived for you!
Always in your Network,
Debra