E100 Alert - Knowledge Innovation Zone Phase I -
Officially Launched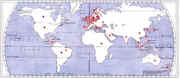 Visit our site:
www.inthekzone.com
Dear E100:
A year ago, it seemed a vision; today it is a reality!
The concept of Knowledge Innovation Zones (KIZ) has 'officially' been innovated and although many have serious ROI difficulties, initiatives are already beginning to create wealth for stakeholders! We knew it was only a matter of time as reported in the previous E100 Alert featuring the Worldwide KIZ Announcement.
You should all have already visited the new Knowledge Innovation Zone (KIZ) Website - www.inthekzone.com and read the published article in 'Inside Knowledge' - Examples are proliferating, books of substance are producing clarity and focus, seminal workshops/conferences are spawning insights on a global basis, and our own goal of 'action with purpose' is taking root.
As the knowledge-based economy expands, stakeholders will find this to be an appealing transformational pathway to a prosperous, diversified, and abundant future. We all have a role to play – especially as experts within the ENTOVATION Network. Now is the time...
KIZ Phase I: RESEARCH – Announcing our Platinum Sponsor

Thanks to the catalytic investment by executives of the Integrated Visions Group, Saudi Arabia, and E100 Chris Geary, The RESEARCH Phase of the Knowledge Innovation Zone Initiative has been underway for several months. In an April signing ceremony in Dubai, AUE, their corporate VP – Mr. Mohammed Mujadedi – set the standard with words of vision for local, regional and international leadership. "The magnitude of this pioneering is significant with implications for our respective businesses, countries and most of all, the youth we develop for our future."
Now E100 Bryan Davis, ENTOVATION Fellow for Innovation Intelligence, and I are creating and preparing for distribution the KIZ State-of-the-World Report this fall that will likely include:
KIZ

Manifesto

;

Principle

s;

Reference Model

;

Implementation Guidelines for growing a prosperous, profitable, and sustainable KIZ; Measurement Indicators;

a P

ractice

M

astery

C

urriculum; Playbook; Market Assessment Analysis, emerging Market-Space model; Knowledge

-

enabling Software Directory; Directory; Expertise Directory and

Global KIZ L

eadership

M

ap; Taxonomy & Glossary; Reference Resources/Pathfinder

and more.

And this is only Phase I!
The Triple Knowledge Line©: Preliminary Findings
The Knowledge Value Proposition has been articulated before in several publications, that being a balance of economics, behavior and technology. Now, as we look across the initiatives on the enterprise and societal levels, we discover that leaders are reconciling three prevailing aspects of the Triple Knowledge Line (TKL): (1) the Knowledge-based Economy, including knowledge, human or IC-related capital often documenting intangible value indicators, knowledge markets, risk management and assessment tools; (2) the Knowledge-based Society, including the social or relationship capital embedded in a knowledge culture, networks, mindsets, attitudes and beliefs; and (3) the Knowledge-based Infrastructure, which would depict the organization and structural capital that would include technology and the environment.
Much more will be defined in the forthcoming state-of-the-world report; but you can catch a glimpse of how what previously were considered just theories and managerial concepts are now being operationalized! Visit the TKL Slide Show. In short, the focus on the TKL – together with a defined strategic direction - leads to modern leadership Principles and the Impetus for Innovation, often in the form of entrepreneurial initiatives, ideally with a solid, systematic knowledge innovation strategy. Results will lead to new governance Policies (public and private) as well as modern managerial Practices. Impact should yield greater real-time knowledge innovation Performance, based upon newly identified value-drivers.
In further study of 100+ Knowledge Innovation Zones, plans would benefit from some of the advances being made in 'stakeholder innovation', as evidenced by models adapted within Novo Nordisk, a Denmark-based pharmaceutical company, now listed among the Top 100 Global Sustainable Companies in the world. A reference case study on DAWN program has been published by the Ark Group.
KIZ Phase II PROTOTYPING – Call for GOLD Participation: Similarly, we have been examining a variety of industry sectors. We are now in the process of soliciting three types of players in each of the KIZ arenas: (1) Geographic, (2) Industry and (3) Virtual collaborative topics of interest.
The geographic bases are obvious. We have gathered many of the economic development plans that go behind the websites as well as representative speeches and leadership positioning. Soon they will be made available in a proprietary space. Similarly, we have been examining a variety of industry sectors that appear now ready to be converted into Knowledge Innovation Zones (KIZ's), such as the Energy sector, Agri-Business; Life Sciences and more. Most important, there is apparently underneath all these initiatives the need for a Knowledge Innovation® Grid – something we have now well researched and about which we are ready to make some recommendations. Further, we have identified the common topical areas of interest, such as knowledge visualization, knowledge markets, and knowledge entrepreneurship, indigenous management, and more - topics that would be suboptimal to research in a vacuum.
Our plan now is to solicit sponsoring groups to serve as hubs for these areas of inquiry over the next two years. In response, participants will receive early access to proprietary insights, and select rights to certain resulting products and services, such as simulation models, intangible metrics and TV documentary series. Now is the time for you to let us know if YOU – as members of the ENTOVATION Network - have a geography, industry or area of topical inquiry that might be good prototyping candidates and/or sponsors for this initiative.
Phase III Venturing – Architecting EN2Polis: Many of you have been following the evolution of EN2Polis – http://www.entovation.com/group-alliance/en2polis.htm - which will soon be constructed. Having participated in the previous phases is a requisite for being considered the funding agent for Phase III. Phase II is likely to be quite robust; but we want to ensure a knowledgeable cadre of players who have participated in the Phase I Research and Phase II Prototyping as the price of inclusion. Soon, our plans are ever closer to the 'World Trade of Ideas' being actualized.
KIZ Student Award:

"An intelligent city should have its projection
into the virtual world in order to stay connected
with its citizens and to integrate the scattered arenas
if the city with a universal interface. The mapping of
intellectual capital (IC) helps a city leadership
to make better resource allocation decisions."
In an April ceremony at Henley College (UK), Dragana Radovanović was presented the inaugural student award for her thesis – 'Intelligence and Lund'. Originally from Bosnia and Herzegovina, Dragana now lives and studies in Lund, Sweden, under the tutelage of Professor Leif Edvinsson. In attendance were principals of the Henley KM Forum, such as Christine van Winkelen and Edward Truch, corporate representatives from Sun, Microsoft and Unisys, E100 Chris Geary representing IVG, ENTOVATION Fellow Bryan Davis and other guests from the newly formed Center for Innovation and Information Technology (CIIT) at the University of Lancaster.
The thesis provides a briefing of contemporary and evolving society with an analysis of the knowledge and information society, innovation and creativity environments, intellectual capital of cities, intelligence for city development and the society of the future. There is an analysis of the prevailing quest for the knowledge city, the creative city and the intelligence city. There is a scope of Ragusa's sustainability factors In contrast to the city of Lund, Sweden, with suggestions for a sustainable path forward.
Other highlights from the Middle East and beyond:
Of course, the leadership from the Integrated Visions Groups stands by itself; but there are numerous other activities with which E100 have been intimately involved lately, and it is worth mentioning a few:
(1) The Festival of Thinkers – www.festivalofthinkers.com – was an extraordinary March event in Abu Dhabi. Dr. Tayeb Kamali, Director of the Higher Colleges of Technology, and Edward DeBono, the grandfather of lateral thinking were co-chairmen of the events. Other E100 participating included Dr. Piero Formica, ENTOVATION Fellow for Strategic Alliances, and Professor ZhouYing Jin, Director, Chinese Academy of Social Sciences, Beijing.
(2) The Knowledge Innovation Certification program has been officially launched by Dr. Oliver Schwabe, Eurofocus and ENTOVATION Fellow for Knowledge Products and Services, along with the Regional Information Technology and Software Engineering Center (RITSEC) with a showcase of projects across the ministries of the country - http://www.mastering-echange.com/KEN-RITSEC/RITSEC-Masterfile-Web.htm. More detail on this will follow in a coming E100 Alert.
(3) E100 Abdulla AlSubyani, Saudi Aramco in Saudi Arabia, has officially launched the Arab Knowledge Economy Association (AKEA) - http://www.akea-me.com - with the inaugural ceremony that featured another ENTOVATION Fellow, Dr. Charles Savage, CEO of Knowledge Era Enterprises.
(4) With a conference in the Kingdom of Bahrain, Debra M. Amidon was featured in an interview for the Arab News - http://www.arabnews.com/?page=9&section=0&article=62153&d=15&m=4&y=2005.
(5) Another Amidon interview as featured in the June issue of 'Effective Executive', the magazine published by the Institute of Chartered Financial Analysts of India (ICFAI). You can find the interview – http://www.entovation.com/press-room/Effective-Executive__interview_.pdf.
Our Knowledge Innovation Zone (KIZ) investigations have taken us to the Dubai Knowledge Village, the Internet City, and the Media City. Our first sighting of a geographic region using the KIZ language is in Shanghais Knowledge Innovation Zone and we've discovered the close resemblance to the concept in the Pennsylvania Governor's initiative for Keystone Innovation Zones. There are already several major conferences planned for the Al-Madinah region in Saudi Arabia, the Global Forum scheduled for Belgium in the fall, even words of a possible Worldwide Innovation Summit in Dublin; so stay tuned for how you become more involved.
All-in-all, we see leaders across sectors and geographic boundaries picking up the innovation pace. Now is the time for your own KIZ leadership.
Let us know your progress...
Debra